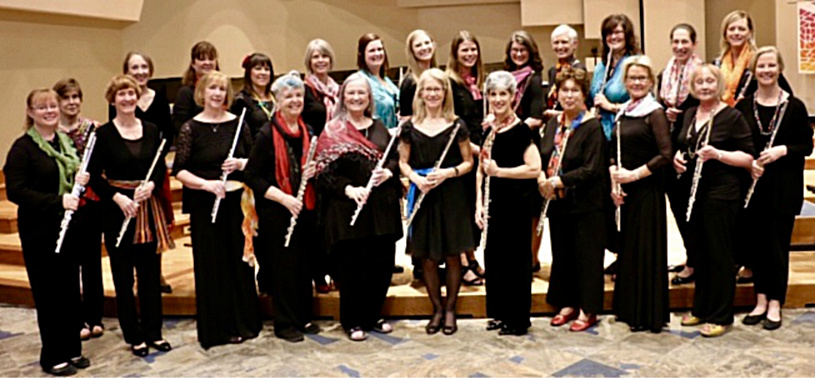 Rocky Mountain Flute Choir  Spring 2018
Founded in 1977 as the Alry Flute Choir under the direction of Amy Rice-Young, the current Rocky Mountain Flute Choir has 26 active members.  Members rehearse once a week on Monday evenings from 7 p,m. to 8:30 p.m. at the First Plymouth Congregational Church in Cherry Hills Village.  The choir rehearses from August through May and performs at least two free public concerts, one in the spring and one in the fall.  Additional private concerts are scheduled throughout the year.  If you are interested in joining us or would just like more information, please visit the Contact Us page.  You can hear an excerpt from one of the pieces we performed at our Fall 2018 concert, It's a Jungle Out There, by clicking on the audio file under the group photo. The piece is entitled Cats and Flutes.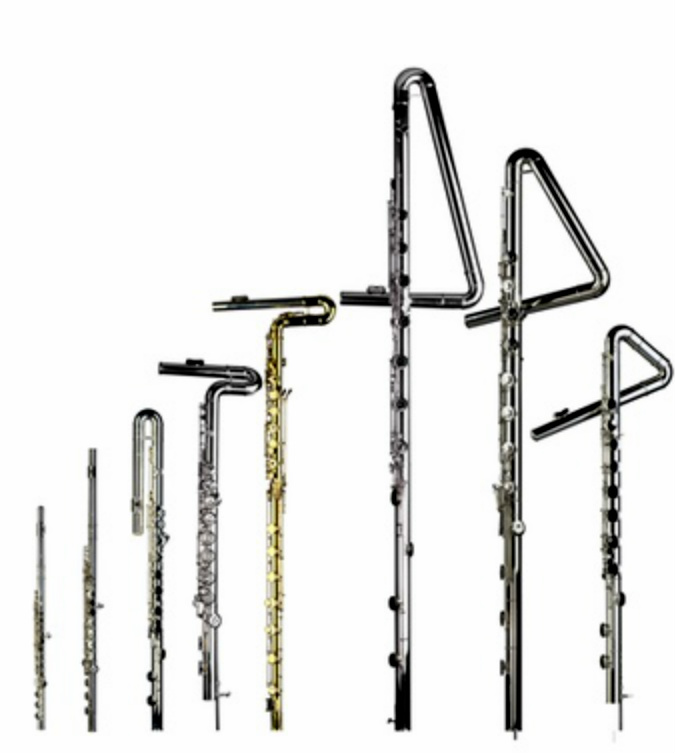 What is a flute choir?
Just as a vocal choir has a range of voices, so, too, does a flute choir. The most common flutes in a flute choir are piccolo, C flute, alto flute, and bass flute. Music is specifically arranged for a flute choir and can vary from sweet romantic to cool jazz to hot Latin and everything in between! The result is a tapestry of wondrous sounds and a delight for both the audience and the players.
We invite you to attend our next free performance. Please see the Upcoming Events page. We also hope you will attend our post-performance reception and meet and greet our flutists.
Meet our Players
The flutists who make up the choir come from diverse musical backgrounds.  The things they have in common are a love of music and performance as well as the desire to provide the best possible concert experience for their audience.
The photos and biographies of each member of the choir will rotate on a regular basis.  So, please return often to this page and see who is performing in the Rocky Mountain Flute Choir.
Melissa Berry: C Flute & Bass Flute
Melissa Berry considers herself a born-again band geek and has played flute, piano, or has sung in choir since grade school and into college. After a musical hiatus of several years, she has taken up fluting once again with the RMFC since the spring semester of 2018. Professionally, Melissa works in Colorado state government with the Department of Public Health and Environment and focuses on budget and policy analysis. Melissa and her husband, Cyrus, love Colorado living with their kids,  Amaya, Noah, and new baby girl, Chiryoko, as well as two fluffy dogs, two royal cats, and seven spoiled bunnies. Melissa enjoys art, reading, traveling, watching cooking shows, gardening, studying foreign languages, and following local sports teams.
.
Deb Noland: C Flute & Alto Flute
Deb Noland has played the flute most of her life. She recently retired from from a long-term care facility where she worked as a nurse and educator. She is married to Susan, a harp teacher, and has 5 kids and 6 grandkids, all of whom live much too far away. She enjoys cooking, reading and binge watching TV drama series on her iPad.