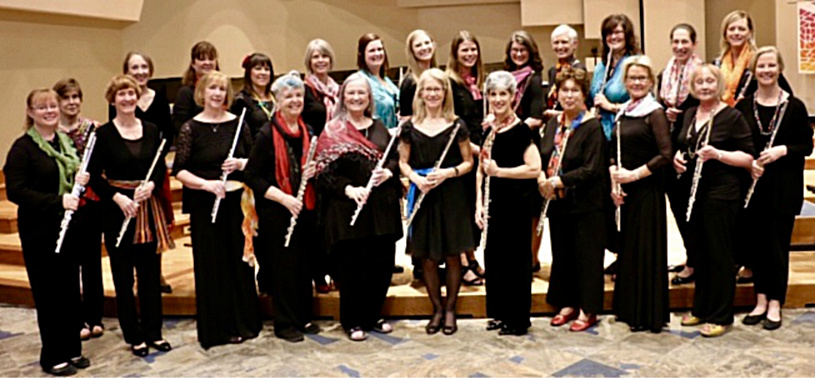 Rocky Mountain Flute Choir  Spring 2018
Founded in 1977 as the Alry Flute Choir under the direction of Amy Rice-Young, the current Rocky Mountain Flute Choir has 31 active members.  Members rehearse once a week on Monday evenings from 7 p,m. to 8:30 p.m. at the First Plymouth Congregational Church in Cherry Hills Village.  The choir rehearses from August through May and performs at least two public concerts per year, one in the spring and one in the fall.  We ask for cash donations at the concerts in order to help offset our costs.  The suggested donation is $5 per person, and representatives are present to accept donations and provide assistance.  Additional private concerts are scheduled throughout the year.  Please click on the audio file above the photo if you would like to hear an excerpt from our 2018 Fall Concert, IT'S A JUNGLE OUT THERE.  The piece is entitled, Cats and Flutes.  If you are interested in joining us, being on our mailing list, or would just like more information, please visit the Contact Us page.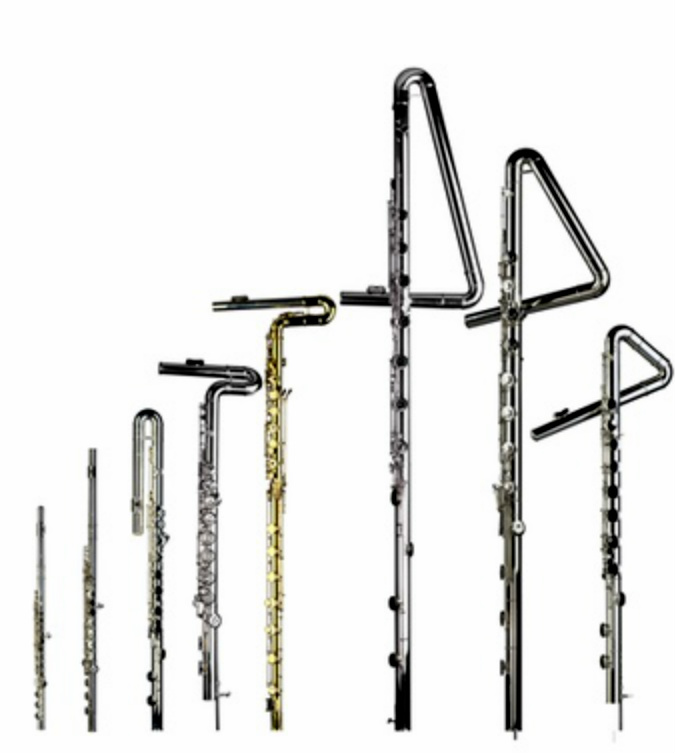 What is a flute choir?
Just as a vocal choir has a range of voices, so, too, does a flute choir. The most common flutes in a flute choir are piccolo, C flute, alto flute, and bass flute. Music is specifically arranged for a flute choir and can vary from sweet romantic to cool jazz to hot Latin and everything in between! The result is a tapestry of wondrous sounds and a delight for both the audience and the players.
We invite you to attend our next performance. Please see the Upcoming Events page. We also hope you will attend our post-performance reception and meet and greet our flutists.
Meet our Players
The flutists who make up the choir come from diverse musical backgrounds.  The things they have in common are a love of music and performance as well as the desire to provide the best possible concert experience for their audience.
The photos and biographies of each member of the choir will rotate on a regular basis.  So, please return often to this page and see who is performing in the Rocky Mountain Flute Choir.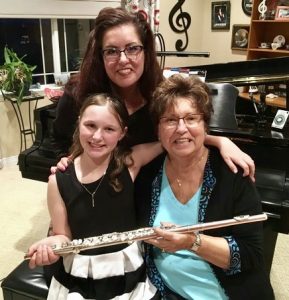 Patty Stewart: C Flute
Patty Stewart has been playing both flute and piano with the Rocky Mountain Flute Choir for years.  Now retired, she worked as a school counselor and department chair in Jefferson County Public Schools, but she has been a flutists since the 4th grade!   She inspired her daughter, Kristin, and her granddaughter, Riley, to do the same, and all three of them continue to play!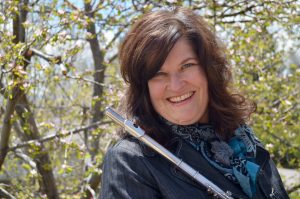 Rita Gibson Brockway: Piccolo, E-Flat Flute, C Flute, Alto Flute, Bass Flute
Rita Gibson Brockway has 30 years of experience performing and teaching music. Rita earned a music degree at Duquesne University (Pittsburgh, PA) and has performed with countless ensembles on stages such as The Kennedy Center and Carnegie Hall. After college, she managed what is now known as the American Youth Philharmonic Orchestras in Northern Virginia.  She later settled in West Virginia, where she raised two wonderful daughters.  She has  developed multiple music programs for children and has also performed in many musicals with West Virginia Public Theater. Her students have been selected to participate in All State ensembles as well as the Governor's School for the Arts. With her daughters in college, Rita recently moved to Denver to be near family and has already performed with the Denver Recorder Society and the Castle Rock Orchestra in addition to the RMFC.