Below is a link to the extraordinary poster that Jeffrey Hsu, an RMFC member, created to visually honor and expand on the life and times of our founder, Amy Rice Blumenthal, from 1977 to the present day. This poster was presented at the NFA Convention on August 2, 2019 in Salt Lake City, Utah.
In addition to the poster, the accompanying notes give a summary of Ms. Blumenthal's incredible journey from the founder of Rocky Mountain Flute Choir starting with a small band of dedicated musicians that met in her basement to presiding over a successful publishing house (ALRY publishers) to teaching and performing at Wildacres Retreat in Charlotte, North Carolina. She is a dedicated professional and a true inspiration to all of us in RMFC.
Two of our current members, Linda Fegley (C flute) and Vera Aaron (contrabass flute), were early members of the Rocky Mountain Flute Choir when it was known as ALRY Flute Choir. They are featured in the photo below.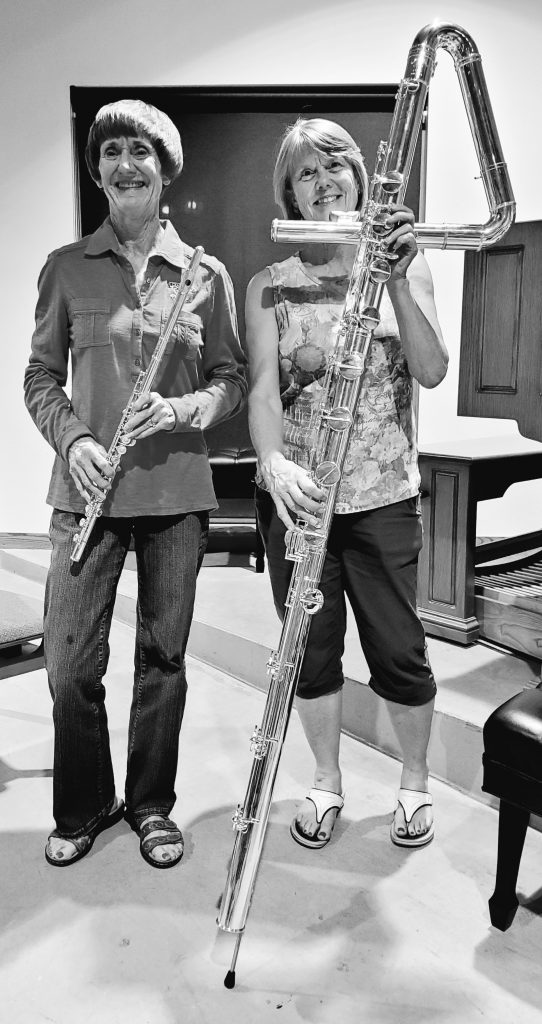 We hope you will enjoy learning about the history of our group and our exceptional founder, Amy Rice Blumenthal.
Rocky Mountain Flute Choir
"Mile High Notes: Flute Music of Colorado and Amy Rice Blumenthal"
NFA Convention, Salt Lake City, Utah, August 2, 2019
Amy Rice Blumenthal began her career by creating opportunities. First, "she wrote a letter to Denver Free University asking why the school didn't offer flute lessons. The university suggested that she start a class, and out of the class grew her flute choirs." In 1977, Amy founded the ALRY Flute Choir in Denver, Colorado. As the flute choir expanded, Rocky Mountain Flute Choirs, Inc. was formed as an umbrella organization to append various youth, amateur, and professional ensembles. Sometime during the 1980s, "Rocky Mountain Flute Choirs. Inc." merged into the sobriquet, "Rocky Mountain Flute Choir," which is how our historic flute choir is known today.
Second, Amy "saw the need for good music for flute ensembles" among our crowded flute community. Like a Russian doll, one thing led to another, and ALRY Publications successfully emerged in Denver. Amy overcame numerous challenges during startup. For example, she was the only female publisher in a field dominated by men, and she survived embezzlement by an employee all too close to home. By their 25th anniversary, ALRY had grown from three publications to well over 1100, represented 200+ composers and arrangers from all over the world, and distributed music for ten other companies. Ten years later in 2016, ALRY published and promoted the woodwind and chamber music of over 400 composers and arrangers, and eventually produced and published over 5000 musical works.
Colorado seeded and inspired much of Amy's performing and publishing career. To illustrate, Amy received two bachelor degrees in music from the University of Colorado at Boulder, where she would later profess flute in addition to teaching at Denver Free University and the Colorado Academy. Amy worked closely with the Rocky Mountain Flute Association, moreover, and developed a strong relationship with Mountain States Printing (Denver). As such, she tried to represent as many Colorado composers as possible, for instance, Cloud Forms by the late Cecil Effinger (Music Chairman, UC Boulder). On that note, Amy said she "loved working with composers and hated turning down compositions."
Amy eventually left Colorado for love and moved ALRY to Charlotte, North Carolina. While there, she also fell in love with Wildacres Retreat and has been teaching/performing as part of the Wildacres Flute Masterclass since 1981; she ran the class for fourteen years, to boot. Today, Amy is active with Arts Advocacy at many levels--locally and nationally--and she runs an Artist Retreat. Occasionally, Amy still teaches, and "when it is something [she] finds challenging and inspirational," she performs as well. She has been playing and recording for dance companies, most recently the Martha Graham Dance Co., and she remains deeply involved with Wildacres Flute Retreat (www.wildacresflute.com). Other than that, Amy stays busy with a variety of Boards, painting, gardening, traveling, and just enjoying life in general!
She is a flutist/musician, arranger, teacher, performer, founder, publisher, philanthropist, fundraiser, advocate…a true entrepreneur. She has been featured in flute choir dissertations and countless newspaper and magazine articles; she has arranged several important works for flute choir such as The Pink Panther Suite by Henry Mancini; and, she is the author of The Flute Choir Warm-up Book and has written scholarly articles on diverse topics about flute choirs. One can only imagine how far Amy's reach is and the extent to which ALRY set the stage for the flute community at large. Through Amy's legacy, we can glean that fluting is not just about a cascade of flashy notes; rather, music is a way to connect with the community, accept or make opportunities, and engage and inspire. As Coloradans, the Rocky Mountain Flute Choir is proud to pay tribute to Amy Rice Blumenthal for her outstanding work in scaling flute choirs, flute music, and paving the way for future generations to cherish the art of flute.
_______________________________________________
1 Barrett, Marjorie. "Flutist Casts Fate to the Winds." Rocky Mountain News [Denver, CO], 20 Nov. 1982, p. 85.
2 Rice Young Blumenthal, Amy. "A Brief History of ALRY Publications, Etc., Inc." (Self-published, n.d.)
3 Hubler, Sunny. "The Flute Player." QC Exclusive [Charlotte, NC], 2016. https://qcexclusive.com/culture/the-flute-player/attachment/flute-player-3/. Accessed 2018.